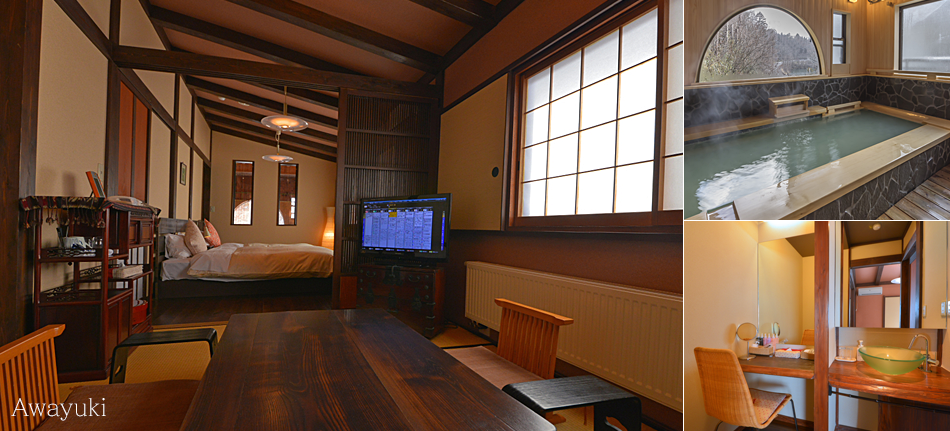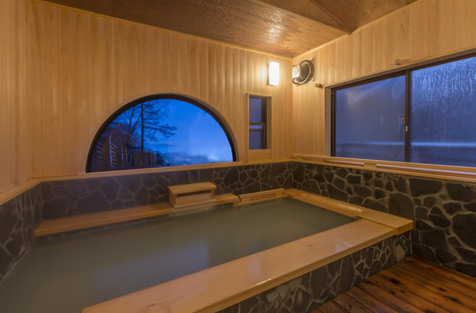 This Kyoto Machiya-style, or traditional wooden townhouse-style, room has an ancient feel and peaceful atmosphere. The room includes a private hotspring Kakenagashi-type bath, which is a bath with water flowing directly from the hot spring source. You see Lake Yunoko from the bath. We have four other bathes for private use at our inn, two of which are open-air. All bathes are free of charge and do not require a reservation. Please enjoy them during your stay.
Features: 6 tatami-mat Japanese-style room, 7 tatami-mat twin bedroom with powder room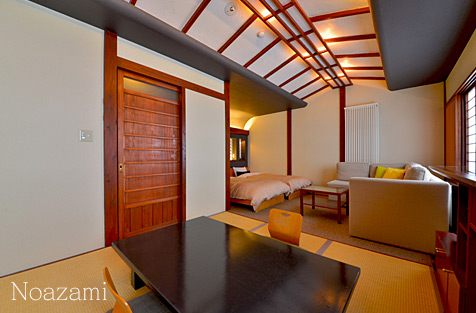 [NOAZAMI] A Japanese style room and twin beds
This room, NOAZAMI, has two rooms(a living room and a bedroom) and a showerroom. A bathrobe and a yukata( an informal kimono) are provided and a heater and an electric pot are equipped. You can enjoy the mixture of a Japanese atmosphere with a nice and comfortable western style.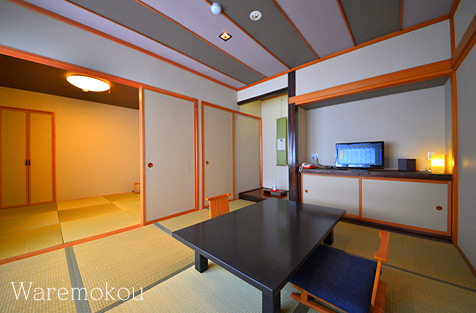 [WAREMOKOU] A Japanese style room
This room was redecorated in April, 2013. It offers you a comfortable Japanese atmosphere with tatami-mats. It has a showerroom. A yukata(an informal kimono) is provided and a heater, a television and a refrigerator are equipped with this room.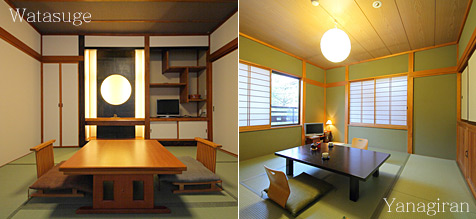 [WATASUGE & YANAGIRAN]
These are small and cozy rooms. The rooms have a restroom  including a spacious washstand area. If you open the three-sided mirror at the sink, you will find bath amenities and a hair dryer.
Watasuge: 8 tatami-mat Japanese-style room
Yanagiran: 8 tatami-mat Japanese-style room
Relax in our YUKOMORI style rooms [WAREMOKOU] [WATASUGE & YANAGIRAN ]
YUKOMORI: We will prepare your FUTON before you check-in so that you can relax upon arrival.
YUKOMORI style keeps you warm even after taking a bath.